Outdoor Side Covers
Do you have an outside space that you love spending time in, but find you can't when the weather gets too hot in the summer or too wet & windy in winter. This is a common problem given the climate we have in New Zealand, but there is a highly effective solution – outdoor blinds.
Outdoor blinds let you continue using your outside spaces as they give you the protection you need – blocking out the sun's excessive heat, for example, or shielding you from the wind & rain. This lets you stay outside for longer.
Transform your outdoor space into your living space.
Please contact us at Space Transformers today to find out more about our outdoor blinds.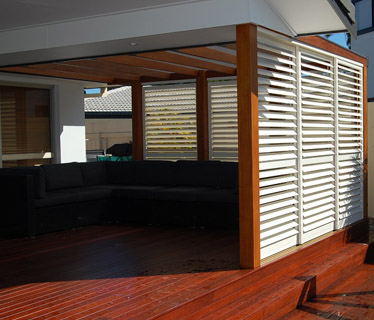 PergoSHUT – Plantation Shutters
Exterior Shutters provide a stunning yet functional outdoor solution for creating privacy, protecting your windows, and controlling sunlight and airflow into your home. Our range of options suits a variety of lifestyles and aesthetics.
Made from aluminium paneling and stainless-steel components, our Exterior Shutters are the ultimate in strength and weatherproofing. Style options include hinged, bi-fold, sliding and u-channel/fixed.